Reading Material: Hollywood Surf and Beach Movies: The First Wave, 1959-1969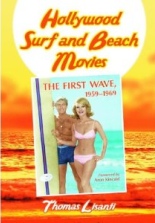 Just because it's currently cold outside doesn't mean you can't enjoy Hollywood Surf and Beach Movies: The First Wave. In fact, since Thomas Lisanti's book is dedicated to the sunniest of cinematic comedy subgenres, it might even make winter life more pleasurable.
The title of this paperback — a more affordable reprint of the book's original hardcover release in 2005 — tells you everything you need to about it, as Lisanti provides the reader without spirited overviews of arguably the first 32 films, from the ones that birthed the craze to the ones that killed it.
Ironically, I've never seen Gidget, which started the craze, nor any of AIP's Frankie Avalon and Annette Funicello pictures, yet I've consumed more beach movies than I had realized, including the horror spoof The Ghost in the Invisible Bikini; the early Sharon Tate vehicle, Don't Make Waves; the original Where the Boys Are; and Catalina Caper, thanks to its now-legendary appearance on the second season of Mystery Science Theater 3000.
Well, Lisanti has seen them all, and now I pretty much want to, as well. Even when he dogs a picture, there's an affection to his voice — especially given the bevy of bikini babes who romp through these pictures with the skimpiest of coverage; not for nothing did he have to type the phrase "buxom blonde" so often. (With the book being published by McFarland, scads of photos are contained within, in case the reader desires visual proof.)
These films represent a squeaky-clean Americana that likely never truly existed outside of the screen, but they're a blast to visit and revisit. Through his gossipy but substantive behind-the-scenes stories culled from many personal interviews (many of which also informed his recent, recommended Drive-In Dream Girls), Lisanti guides us through the gamut, from terrific to terrible.
He notes not only which flicks succeed on their merits, but delves deep into those merits, from whose curves best filled swimwear to whose songs fell as flat as a surfboard. (Semi-related on that note: his takedown of The Supremes' appearance in 1965's Beach Ball: "Diana Ross is a fright with her chipped tooth and big beehive wig. Her close-ups are scarier than anything found in The Horror of Party Beach.")
At nearly 450 pages, Hollywood Surf and Beach Movies: The First Wave concludes with profiles of 23 actors often associated with the subject, including John Ashley, Yvette Mimieux, Sandra Dee, Chris Noel, Quinn O'Hara, Shelley Fabares, Aron Kincaid (who provides the book's foreword) and — meow — Susan Hart. It says a lot when you can get joy from reading on-set stories for movies of which you've never seen a frame. I'd love to see what Lisanti had in store for The Second Wave, but considering this First Wave hit seven years ago, I'm guessing we may not be so lucky. —Rod Lott