Reading Material: Regional Horror Films, 1958-1990: A State-by-State Guide with Interviews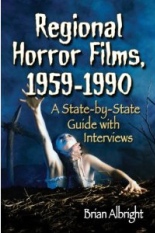 I'm not sure whether to be proud or ashamed that I've seen so many of the movies covered in Brian Albright's Regional Horror Films, 1958-1990, a state-by-state reference guide to fright flicks made independently of the studios, major and minor. I just assumed that the titles covered would be completely obscure.
To a majority of moviegoers, I'm sure they are. Yes, they include Sam Raimi's The Evil Dead, Tobe Hooper's The Texas Chain Saw Massacre and Troma's The Toxic Avenger, but those are exceptions to the rule — one populated by the likes of Zaat, Terror at Tenkiller, Dungeon of Harrow, Don't Go in the Woods and Mardi Gras Massacre. Home video may have extended their audience greatly, but rarely so far to have penetrated the mainstream.
But before Albright gets to those, he gives a great introduction in "I Hear America Screaming," offering a quick overview as he establishes the definition and criteria for the films covered. Why stop at 1990? Because the explosion of digital video and iMovie would have necessitated something the size of the Yellow Pages for the greater Los Angeles area. That's a smart decision, because in my view, the luster seems to have been lost when the technology is no longer something people had to work to get.
Blood, sweat and tears inform these films — not trust funds, iPhones and Kickstarter campaigns. That's not to say the end results are all good — heavens, no; in fact, the opposite is often the case. And it's refreshing to hear the filmmakers admit their own faults in the 13 Q-and-A-style interviews that compose roughly half the trade paperback's 336 pages. Among the most notable are, in order of ascending talent, J.R. Bookwalter (The Dead Next Door), William Grefé (Stanley) and Lewis Jackson (Christmas Evil).
The back half contains the state-by-state rundown (ignoring California on purpose, save for one), with the flicks presented in capsule format, but not as reviews. To his credit, Albright doesn't pretend to have seen all of them, especially when one considers how difficult many are to acquire. His entries make me want to see scads of them.
With poster art galore, this is a reference book that horror-film fans didn't know they needed. —Rod Lott