Reading Material: The Films of Mamie Van Doren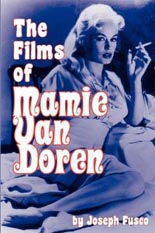 In the introduction of The Films of Mamie Van Doren, author Joseph Fusco connects the dots to draw a line from Hollywood's old-school vamps (such as Jean Harlow and Mae West) to the 1950s starlets Marilyn Monroe and Jayne Mansfield. With the latter two, Mamie Van Doren often is thought to form the third point of that era's sex-bomb triangle.
As the title has it, this BearManor Media paperback pays tribute to the cinematic oeuvre of the lovely lady, who survived when her pulchritudinous peers did not, because, Fusco argues, of her powerful roles and sheer versatility. He may be overstating the case — after all, we're talking about the likes of The Navy vs. the Night Monsters — but Van Doren, today a lively 82, is no doubt worth such fun, book-length honors.
Fusco devotes the book's first 50 of 272 pages to a breezy overview of her entire career — not just the movies, but everything from dinner theater to disco albums. The rest goes film by film, a chapter apiece, full of photos and poster art.
Signed by Universal in 1953 as a purposeful rival to Monroe, Van Doren first was cast in a number of uncredited parts two years prior. Soon, the starlet found no shortage of work, arguably reaching an apex — by exploitation standards, at least — in her eight collaborations with producer Albert Zugsmith. While he stands dozens of rungs below D.W. Griffith or Josef von Sternberg on the filmmaker ladder, far more people remember the likes of High School Confidential today than the Griffith or von Sternberg films in which Van Doren briefly appeared.
Because of the brevity, we are unable to get a sense of what she did in her first few movies; how much of that fault is the author, I cannot tell. I can blame him for the irksome multiple spaces appearing at the end of each sentence, but that's negligible. His book obviously does its job, as my Amazon orders of the sex comedy 3 Nuts in Search of a Bolt and the crime drama Vice Raid now attest. (Sadly, Sex Kittens Go to College and Girls, Guns and Gangsters are unavailable for purchase.) —Rod Lott
Buy it at Amazon or BearManor Media.