Reading Material: Sexplosion: From Andy Warhol to A Clockwork Orange — How a Generation of Pop Rebels Broke All the Taboos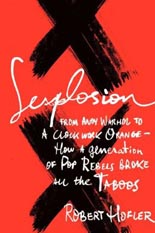 Only in a book like Robert Hofler's Sexplosion could a line like "Blowjobs continued to present sizable problems for filmmakers" not be played for laughs.
Having last chronicled the flamboyant flame-out of producer Allan Carr in 2010's Party Animals, New York City-based journalist Hofler continues in a libidinous vein with Sexplosion, the first great book of 2014. The subtitle says it all — in part, How a Generation of Pop Rebels Broke All the Taboos.
Concentrating on the half-decade between 1968 and 1973, Hofler crafts a remarkably cohesive narrative of change and controversy, despite such disparate creative elements at work. Then again, it was not one piece of popular culture that changed the morality grip — no matter how many of them were connected to Andy Warhol and his Factory hangers-on — but the cumulative effect of all of them.
Sexplosion delves into the major players, finding most of its pages spent at the movies, from Myra Breckinridge to Straw Dogs, but also looking long and hard at theater (like Mart Crowley's The Boys in the Band) and literature (such as John Updike's Couples). Merely touched upon is the boob tube; the most conservative medium of them all nonetheless made waves and headlines with shows both factual An American Family and fictional All in the Family.
Along the way, readers get not only accounts of their making — often made against all odds — but wonderful stories most authors might find too crude to include. This book, however, is Sexplosion, which is way we learn how some of Hair's initial female cast members were so comfortable appearing nude onstage, they didn't mind their tampon strings flopping around in the audience's line of sight, or how concerned Marlon Brando was about his penis size while shooting the sex scenes of Last Tango in Paris.
On the lighter side, you'll learn that studio execs were so vexed by Midnight Cowboy that they wanted to turn it into a musical for Elvis Presley, and that the Rolling Stones sought to star as A Clockwork Orange's gang of Droogs.
No matter the spice level of the words on the page, Hofler's Sexplosion is that most rare of histories: as fun as it is fascinating. —Rod Lott