Guest List: Stephen Jones' Top 5 Horror Stories That Also Have Been Adapted for the Screen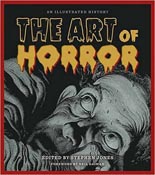 Few know horror quite like Stephen Jones. Therefore, he's a natural to compile The Art of Horror: An Illustrated History for Applause Theatre & Cinema Books, just in time for Halloween! Also just in time for Halloween: this list of five screen-adapted terror tales, which we've whittled down from the renowned anthologist's full list of 10 favorite spooky short stories of all time on our sister site, Bookgasm.
1. "A Warning to the Curious" by M.R. James
adapted as A Warning to the Curious (1972)
No horror anthology would be complete without a contribution by M. (Montague) R. (Rhodes) James (1862-1936), that English master of supernatural fiction. The Cambridge Provost invented the modern ghost story as we know it, replacing the Gothic horrors of the previous century with more contemporary settings and subtle terrors. Although his tales have been much imitated, they have never been surpassed, and amongst the very best is "A Warning to the Curious," which, with its cursed object and doomed protagonist, perfectly exemplifies everything that is memorable about the author's fiction. I was proud to compile Curious Warnings: The Great Ghost Stories of M.R. James, a definitive collection of James' fiction beautifully illustrated by Les Edwards, for Jo Fletcher Books a couple of years ago.
 

2. "The Call of Cthulhu" by H.P. Lovecraft
adapted as The Call of Cthulhu (2005)
Next comes that dean of cosmic horror, H. (Howard) P. (Phillips) Lovecraft (1890-1937). A life-long antiquarian and resident of Providence, Rhode Island, most of his work appeared in the cheaply produced pulp magazines that he despised. He's best remembered for his creation of the much-imitated Cthulhu Mythos, his tales of ancient and unimaginable creatures seeking to reclaim the Earth; they are as powerful today as when they were first written. The author's key story in this sequence, "The Call of Cthulhu," contains all the elements that set Lovecraft's half-glimpsed horrors apart from most other contributors to the pulps. Despite recent, misguided attempts to re-define the author's standing in the genre by people who have probably never read him, Lovecraft remains possibly the most influential author in horror after Edgar Allan Poe. I included this story and all the author's other macabre fiction in the definitive two-volume set Jo Fletcher and I put together for Gollancz some years ago, once again illustrated by the incomparable Les Edwards. The first volume, Necronomicon: The Best Weird Tales of H.P. Lovecraft, has now sold more copies than any other book I've ever been involved with.
 

3. "Yours Truly, Jack the Ripper" by Robert Bloch
adapted for Thriller (1960)
Best known as the author of the original novel Alfred Hitchcock based his 1960 movie Psycho on, Robert Bloch (1917-94) was equally at home writing supernatural and psychological horror fiction. In his later years he became a much-respected film and TV scriptwriter in Hollywood, but his stories also appeared in a wide variety of magazines and anthologies. "Yours Truly, Jack the Ripper" skillfully combines both of the author's fictional styles while casting the historical serial killer as an immortal being. Bloch's story was adapted by Barré Lyndon for a memorable episode of the TV series Thriller, hosted by Boris Karloff, and the author returned to the "Ripper" theme a number of times — not least for his own Star Trek script, "Wolf in the Fold." I recently included "Yours Truly, Jack the Ripper" in my anthology Psycho-Mania!, which also features a previously unpublished introduction by Robert Bloch.
  

4. "Dance of the Dead" by Richard Matheson
adapted for Masters of Horror (2005)
Although widely regarded as a science fiction writer, Richard Matheson (1926-2013) was published in most genres during his lifetime. I have no hesitation in claiming him as a horror author — if only for his novels I Am Legend and Hell House, or his quartet of Shock! collections. Like his friend and contemporary Robert Bloch, Matheson also had the ability to add a psychological twist to his darker tales. I guess its futuristic setting makes "Dance of the Dead" SF, but with its experimental style and grim subject matter, it wouldn't be out of place in any horror anthology. In fact, I included it in Don't Turn Out the Light, the third of the new "Not at Night" anthologies that I edited for PS Publishing.
 

5. "Homecoming" by Ray Bradbury
adapted for Tales of Tomorrow (1953)
Like his friend Richard Matheson, most people probably think of Ray Bradbury (1920-2012) as a science fiction writer, and they would not be wrong in that assessment. But while as a young man Bradbury was cutting his teeth in the SF pulp magazines, he was also contributing an equal number of tales to such periodicals as Weird Tales. To read Bradbury is to read imaginative prose at its very best. His fiction can transport you to other worlds or far futures, or just as easily bring you back to Earth with a shudder and a bump (in the night). I would recommend his novel Something Wicked This Way Comes to any young reader as an introduction to the horror genre, and I adore his stories about the Eternal Family — a sort of literary precursor to The Addams Family and The Munsters. Collected together in From the Dust Returned, these stories are in turns lyrical, poignant and chilling. I would happily choose "Homecoming" or "The October People" or "Uncle Einar" — take your pick; they are all as wonderfully macabre as each other. —Stephen Jones